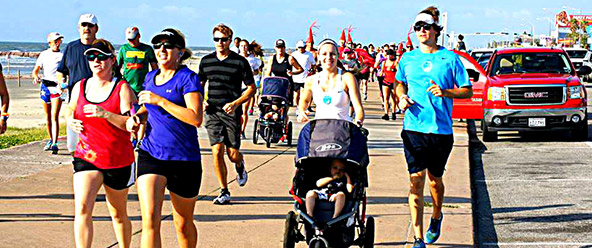 2015 BEERFOOTER - A BEACHIN BEER RUN OF A GOOD TIME
Put your BEERFOOT in front of the other in this BREWTIFUL Beach 5K Fun Run HOPPENING at Beerfoot Brewery! The Beerfooter Beach Run is sure to put some pep in your step and beer in your belly! In conjunction with the 6th Annual Yaga's Chili Quest & Beer Fest, you are invited to join us a get in a lil exercise before devouring warm chili and cold brews!
REGISTER TODAY BY CLICKING HERE!
So you want the details…..?!?!
Included with all registrations:
Free fermented libation at Packet Pick Up (1/9/15 and 1/16/15)
5k Fun Run w/ ANOTHER free fermented libation ($25 Value)
Event T-Shirt ($20 Value)
If you register for the 5K+ Chili & Beer Tasting you will also receive:
Beer Festival Ticket ($37 Value)
Chili Tasting Ticket ($15 Value)
*Non-alcoholic beverages will be available for kiddos (or kids at heart)

Even more details….?!?!
The Beerfooter Beach Run is the perfect opportunity to run along Galveston's beaches & follow it up with a day of great eats and drinks! The run is 5 kilometers long and will begin on the beach across the street from Beerfoot Brewery and head west. Walking and/or Running is permitted as this is a non-competitive, non-timed event!
WARNING: Crazy outfits/Team Uniforms are EXTREMELY encouraged. People in normal, boring clothes will be punished with evil stares and glares for the rest of their lives. . . (Not really, but c'mon everything is more fun in a costume!)
NOTE: Teams receive a $3/ runner discount, so get your friends, family, and co-workers together for an awesome day in Galveston!!
After the run, head downtown to the Historic Strand District for the Yaga's Chili Quest and Beer Fest! If you purchase the run + Chili & Beer Tasting you are all set! You will get to taste chili from the cook-off teams and attend the craft beer festival. If not, pending availability tickets may be purchased at the event. The event will also feature Live Music, Vendors and Strand Merchant Walk-About!
NOTE: Due to the costs of preparation and setup, there will be NO REFUNDS for this event. The run will be done rain or shine. In the case of extreme inclement weather, a new run date will be chosen.
Event details and schedule - Register Early and SAVE!
Dec 17th - Price goes up!
Jan. 10th - Price goes up again!
Jan. 9th - Packet Pick Up @ Float Pool & Patio Bar 2828 Seawall (free beer!)
Jan. 16th - Packet Pick Up @ Float Pool & Patio Bar 2828 Seawall (free beer!)
Jan. 17th - Its GOOO time!

7:30am- Check-in/Registration at Beerfoot
8:45am- Stretch/Warm up
8:55am-Runners to da BEACH!
9am-Runners on your MARK, GET SET, GO!!!!
Post Run-Hang around for a cold refreshment and treat!

12pm - Chili Quest & Beer Fest, live music + more! Head downtown to 23rd street and Strand! Get there before the best chili's and beers run out!